Back to all posts
Posted on
FHS Student Chosen for Junior Forest Ranger Program!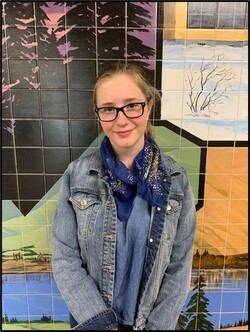 Jessica Weber, a grade 10 student at FHS, has been chosen to participate in the Junior Forest Rangers program, this summer, in High Level. Jessica was selected as one of 54 students from across Alberta to take part in this interactive wilderness program, which runs from July 5th- August 18th, at locations across the province. After a presentation about this program in her CALM class, Jessica was excited to apply for this incredible opportunity. She had to train for a fitness test that included walking two miles, with twenty five pounds on her back, in under thirty minutes, which she managed to complete in 28 minutes. She was also required to fill out an extensive application form that included a written response that entailed her statement of interest. During the application process, we were fortunate enough to have Thomas DeJong, a former employee of the Junior Forest Rangers program, working as a support staff substitute, and he assisted her in the application process. Jessica received notification that she was accepted into the program earlier this month, and she is beyond excited for this opportunity.
During the summer, Jessica will take part in a variety of community projects with various organizations. She will also be given the opportunity to learn about wildlife conservation and tree planting, stream assessments, and trail building, among other things. Jessica is looking forward to learning and being immersed in this experience with other Alberta students. We are so proud of her and can't wait to hear how this adventurous opportunity will positively impact her life!