Back to all posts
Posted on
Partnership with GPRC brings Trades-Based Learning Opportunities for Students at FHS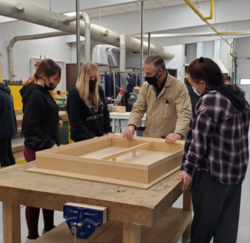 October 15, 2021 - Fairview Jr./Sr. High School (FHS) students are learning from local trades-based college instructors thanks to an exciting new partnership between FHS and Grande Prairie Regional College (GPRC). This week, GPRC instructors started delivering Career and Technology Foundations (CTF) for grades 7-9 and Career and Technology Studies (CTS) curriculum for grades 10- 12 on-site at FHS.
"We are very excited about this partnership with Grande Prairie Regional College" says FHS Principal, Shannon Fraser. "This partnership means our students are provided with a variety of trades-based learning opportunities from local college instructors and will be better informed of post-secondary options available right here in their own community."
Small engines, fabrication, welding, mechanics, plumbing, construction and carpentry are some of the trades-based programming that will be delivered to FHS students by GPRC instructors.
Conversations regarding a potential partnership began in early September when FHS unexpectedly needed a teacher to deliver the CTS and CTF curriculum.
"We were having a hard time finding a CTF and CTS teacher so we called the college to see if they could help us out" explained Fraser. "GPRC was very open and quickly came to the table with ideas to partner with us not only to help us out for this school year but long term."
FHS and GPRC share the vision of a long-term partnership that will expose students to a variety of trades-based career options, increased learning opportunities and bridging the gap between high school and college. GPRC and FHS have also started conversations around offering dual-credit programming for students in the future. Dual credit programming allows students in high school the opportunity to take college or apprentice courses to earn high school credits and start working on a post-secondary certificate, diploma, or certificate of apprenticeship while they are still in high school.
"We are happy to have this opportunity to partner with FHS to bring more opportunities for students in the region," says Lindsay Rosser, GRPC Chairperson of Construction, Fabrication, and Operations, and welding instructor. "It is a win-win when we can help to provide students with real-world skills and provide an introduction to the trades. It gives them a chance to see if the trades are a good fit for them."
For more information, please contact:
Adam Murray, Superintendent of Schools
Oct 15, 2021